It's for the good of everyone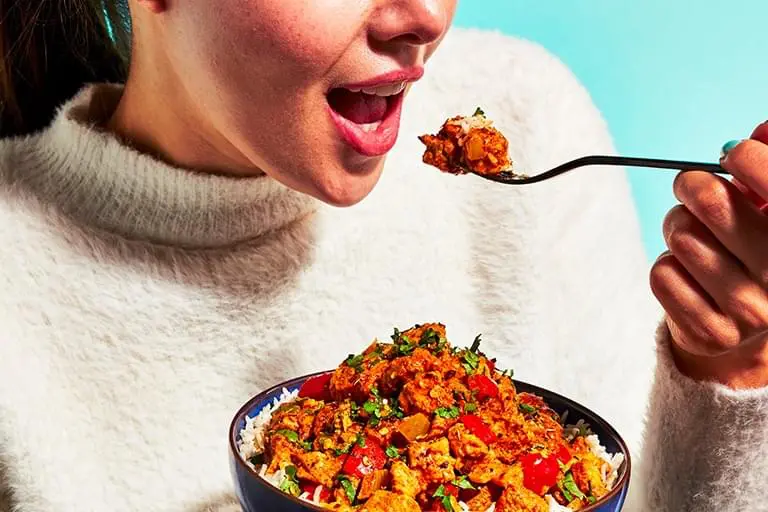 At Quorn® we are on a mission. A mission to get more people into delicious meat free meals. A mission to provide healthy food for people and the planet. A mission to bring people together and kickstart a movement because together, our food choices can create a healthier planet. And surely that's a future worth eating for?
A healthy & sustainable way to enjoy great tasting food
Our vision
After some food for thought? Watch our video to learn more about how Quorn is made. All our products are powered by Quorn mycoprotein. A super protein, that's healthy for you and the planet.
Find out more
Products
It's easier to help the planet when it tastes great too. See for yourself with our delicious range and make a change to your plate today.
See all products
Recipe Inspiration
Cook up a storm with our tasty recipes. They're delicious and are kind to the planet's resources too. Win Win.
See all recipes
Health Star Ratings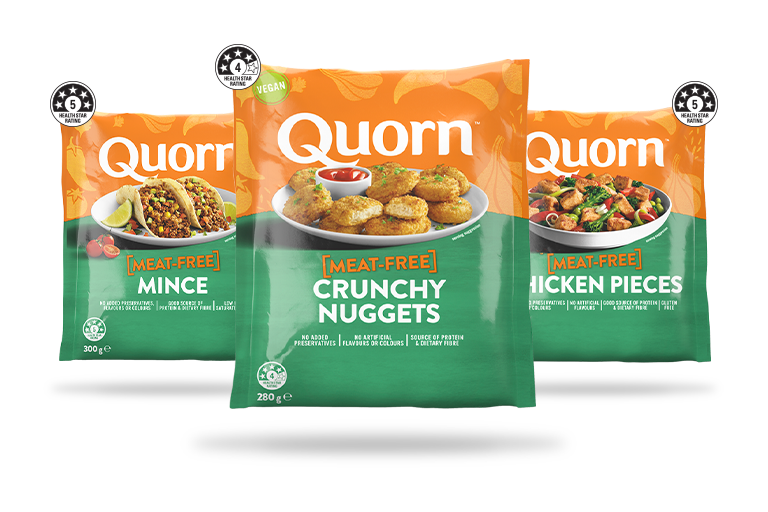 Health Star Ratings are a simple way for consumers to compare similar packaged foods within a category and make healthier eating choices based on their nutritional value. Foods can score between 1/2 a star to the full 5 stars. The more stars, the healthier the choice, simple.
The Health Star Rating system was developed by the Australian Government in conjunction with food companies, public health organisations and consumer groups. Quorn proudly feature these ratings on our food packaging to enable our consumers to make healthier everyday food choices.
FAQs
See all FAQs
Are Quorn products gluten free?

We have a range of gluten free products which you can find clearly marked with the gluten-free icon on our product page.
Are Quorn products healthy?

We do not claim to have the definitive answer to what is healthy but we focus on providing people with a wide range of food choices that suit how they live, how they prepare food and how they approach health.

Quorn mycoprotein, an ingredient in all Quorn products, is a nutritious protein that can form part of a healthy, balanced and varied diet. It is high in protein, high in fibre, low in saturated fat and contains no cholesterol. This high-quality protein contains all nine essential amino acids which are not produced in the body and must be obtained through the food we eat. Quorn mycoprotein contains a variety of vitamins and minerals, it is a source of riboflavin and is high in choline, folate, manganese, phosphorus and zinc.

According to Australia's Health Star Rating, 90% of Quorn's global portfolio scores 3.5 stars or more, meaning that these products are considered healthier choices, taking into consideration the number of calories and amount of saturated fat, sugar, salt and fibre and protein in a food. You can find out more about this here.
Does Quorn have a vegan range?
What is Quorn mycoprotein?

Quorn mycoprotein is used as an ingredient in all Quorn products. It is made from a natural, nutritious fungus, and is high in protein, high in fibre, low in saturated fat and contains no cholesterol. Producing Quorn mycoprotein requires 90% less land, water and carbon emissions than producing animal proteins, so it's also good for the health of our planet. Find out more here.
How do I cook Quorn?

Recommended cooking instructions for all Quorn products can be found on the reverse of each pack and on the product page. For best results, we'd recommend that you follow these tried and tested instructions. If you choose to cook Quorn a different way then please make sure it is piping hot all the way through before enjoying. If you're looking for some tasty meal inspiration then why not try one of our recipes.
Can you reheat Quorn?

Quorn is perfectly safe to reheat, so long as it has been kept nice and cool in the fridge and is eaten within 48 hours. Please ensure that the food is piping hot throughout before serving and remember, don't reheat more than once.